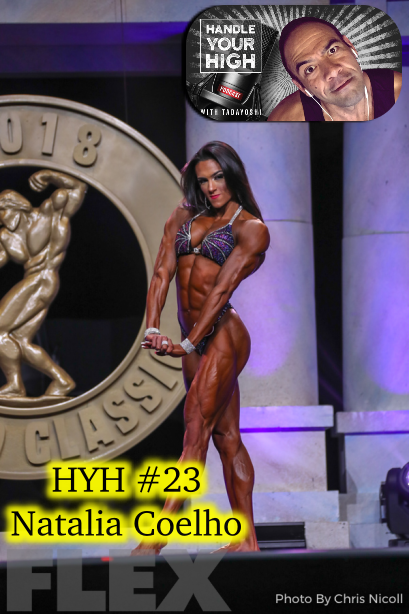 #23 HYH with Natalia Coelho
Mar 6th, 2019 by hyh
Episode #23 of "Handle Your High with Tadayoshi." In this episode I speak with Natalia Coelho. We discuss her latest win at the 2019 IFBB Arnold Classic physique division and her perspectives on winning, life and achievement! Listen, watch and subscribe on iTunes, PodBean, Spotify or my youtube channel "HYH with Tadayoshi"!
HYH #23 Natalia Coelho
Degrees
Winning the Arnold Columbus
more school

 

Time management
Doing what you must
Lessons learned
Mindset and how
childhood

 

Achievements

 

Celebrate along the way
Enjoying the journey
who you are
Mind game

 

Excites you the most
Family

 

Brazil
Healthy
Dating (obstacles)
mindset of winning
Lessons learned
What do you want from your career
What does bodybuilding mean to you
Please support the my show at: https://patron.podbean.com/tadayoshi (be a patron and get advertising each episode!)
On iTunes:
https://itunes.apple.com/us/podcast/id1445947402
On Youtube:
On Podbean:
On Spotify:
*If I can be of service please DM me! 
tad@tadthedietcoach.com
If anyone knows someone that can help me get my next cool guest for my podcast "Handle Your High with Tadayoshi" please DM me! I am always on the lookout for great guests for my show!
#podcast #HYH #realtalk #Tadayoshi #podcasting #mindset #attitude #tadthedietcoach #positivemuscle #fitness #physique #bodybuilding #mindset #ifbb #brazil #nataliacoelho #womensphysique #wpd 
Share
|
Download