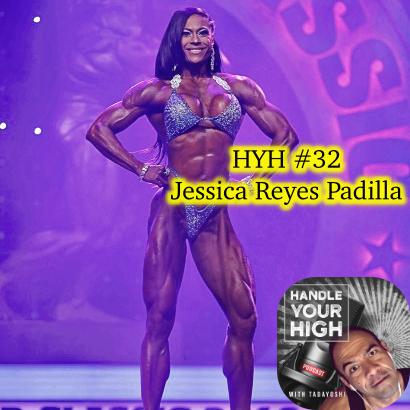 #32 HYH with IFBB Pro Jessica Reyes Padilla
Apr 11th, 2019 by hyh
Episode #32 of "Handle Your High with Tadayoshi." In this episode I speak with IFBB Arnold Austrailia Pro figure winner Jessica Reyes Padilla! We talk about being a mother, Puerto Rico and food!   
HYH #32 Jessica Reyes Padilla
Arnold Australia!
Speaking English
Beginning in the sport
Father
Training

 

Nutrition
More shows this year
New coach (Andrew Vu)
Food
Cheat meals
diet and peak week
consistency
Being a mother
Immortal Labs (sponsor)
Puerto Rico
Biggest Challenge
Biggest Blessing
What kind of animal are you?
Please support the my show at: https://patron.podbean.com/tadayoshi (be a patron and get advertising each episode!)
To watch or listen to any of my shows, see these links on my link page in my IG bio. Or go to:
iTunes:
https://itunes.apple.com/us/podcast/id1445947402
Youtube:
Podbean:
Spotify:
*If I can be of service please DM me! 
tad@tadthedietcoach.com
If anyone knows someone that can help me get my next cool guest for my podcast "Handle Your High with Tadayoshi" please DM me! I am always on the lookout for great guests for my show!
#podcast #HYH #realtalk #Tadayoshi #podcasting #mindset #attitude #tadthedietcoach #positivemuscle #mother #jessicareyespadilla #arnoldaustrailia #puertorico #Immortallabs #figure #ifbb
Share
|
Download