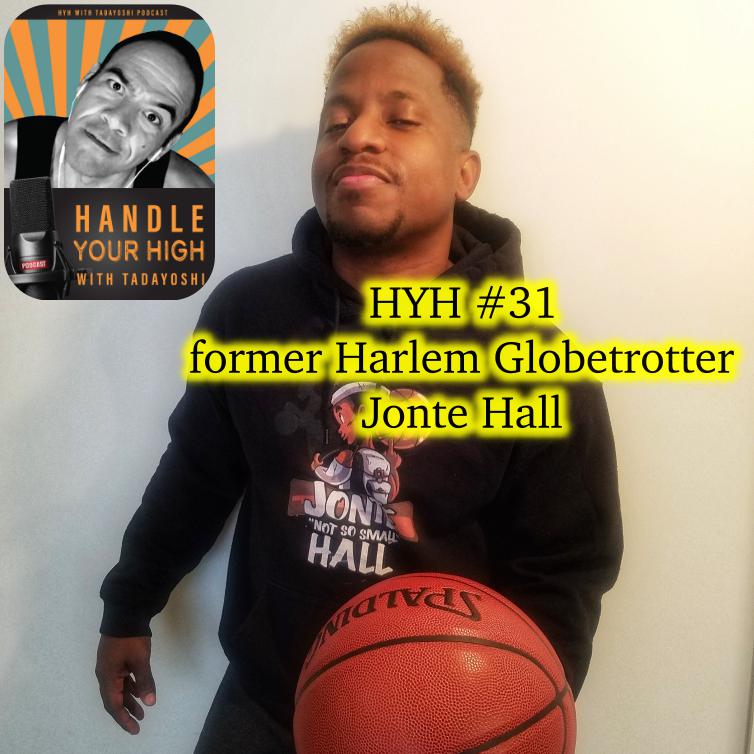 #31 HYH with former Harlem Globetrotter, Jonte Hall
Apr 8th, 2019 by hyh
Episode #31 of "Handle Your High with Tadayoshi." In this episode I speak with former Harlem Globetrotter, Jonte Hall! We talk about traveling the world with the Globetrotters, becoming a professional basketball player at 5' 2", never giving up and his "NOT SO SMALL HALL" brand! 
HYH #31 Jonte Hall
History

 

Harlem Globetrotters
Baltimore
Travel
Jonte Hall Not So Small
Being a role model
Growing up in the projects in Baltimore
Haters in life
Family life
Peer pressure
Mother and MS
Religiousness
Anti-Bullying program
Not So Small (the brand)
Life is a mind game
Basketball
@jontenotsosmall @tootallhall7
Fan stories LOL
Genetics vs desire
mental game to succeed
Never give up
Please support the my show at: https://patron.podbean.com/tadayoshi (be a patron and get advertising each episode!)
On iTunes:
https://itunes.apple.com/us/podcast/id1445947402
On Youtube:
On Podbean:
On Spotify:
*If I can be of service please DM me! 
tad@tadthedietcoach.com
If anyone knows someone that can help me get my next cool guest for my podcast "Handle Your High with Tadayoshi" please DM me! I am always on the lookout for great guests for my show!
#podcast #HYH #realtalk #Tadayoshi #podcasting #mindset #attitude #tadthedietcoach #positivemuscle #harlemglobetrotter #jontehall #notsosmallhall #bullying 
Share
|
Download