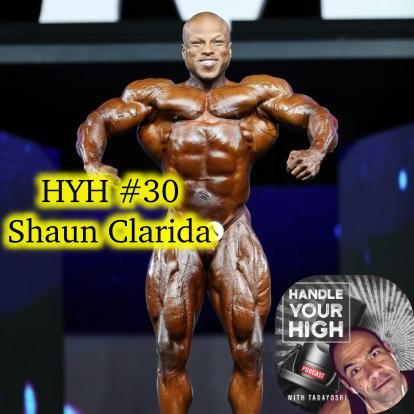 #30 HYH with Shaun Clarida
Apr 6th, 2019 by hyh
Episode #30 of "Handle Your High with Tadayoshi." In this episode I speak with Shaun Clarida! Shaun and I talk about being the "Giant Killer," motivation, fan stories and what kind of car he would be if he was one LOL. 
HYH #30 Shaun Clarida
Olympia and winning pos shows
Mindset/ Attidute

 

Sports
Weaknesses and strengths in physique
Training style
John Meadows training style
5th Olympia
Diet and carbing up
motivation
Flex Wheeler
Fan stories
Japan

 

Travel more
Dexter Jackson and longevity
GASP and sponsors
Social medio
Church
short guys
good or bad biology and blood work
Biggest challenge
Biggest Blessing
What kind of car are you?
Please support the my show at: https://patron.podbean.com/tadayoshi (be a patron and get advertising each episode!)
To watch or listen to any of my shows, see these links on my link page in my IG bio. Or go to:
iTunes:
https://itunes.apple.com/us/podcast/id1445947402
Youtube:
Podbean:
Spotify:
*If I can be of service please DM me! 
tad@tadthedietcoach.com
If anyone knows someone that can help me get my next cool guest for my podcast "Handle Your High with Tadayoshi" please DM me! I am always on the lookout for great guests for my show!
#podcast #HYH #realtalk #Tadayoshi #podcasting #mindset #attitude #tadthedietcoach #positivemuscle #bodybuilding #ifbb #bodybuilding #history #arnoldclassic #shaunclarida #giantkiller #mrolympia 
Share
|
Download