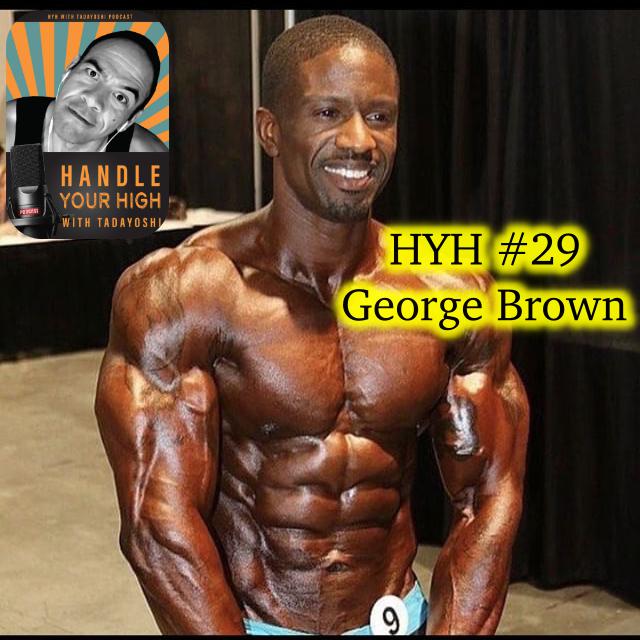 #29 HYH with George Brown
Apr 5th, 2019 by hyh
Episode #29 of "Handle Your High with Tadayoshi." In this episode I speak with George Brown! We talk about Arnold Classic, upcoming shows, winning mindset, meditation and self respect! Loved talking with George, what a good dude! 
HYH #29 George Brown
Arnold Classic reflections
Change coaching to Mandus Buckle
Size in physique division
Evolve and adapt with the industry
The strategy of Men's Physique
Coach
state of mind
Comparing Mike Davies and Mandus' coaching styles
Good and Great
What drives George
Why me?
Winning and Losing
Daughter
Going to jail in 2016
The learning time in 37 days in jail
Phenomenal will
Mom and Dad
Give
Don't dump your trash on me
Jeremy B issues
mindfulness and meditation
Self respect
Giving energy away, making people feel good
The Secret (changed his life)
Changing my life
Biggest life challenge
Biggest Blessing
Please support the my show at: https://patron.podbean.com/tadayoshi (be a patron and get advertising each episode!)
On iTunes:
https://itunes.apple.com/us/podcast/id1445947402
On Youtube:
On Podbean:
On Spotify:
*If I can be of service please DM me! 
tad@tadthedietcoach.com
If anyone knows someone that can help me get my next cool guest for my podcast "Handle Your High with Tadayoshi" please DM me! I am always on the lookout for great guests for my show!
#podcast #HYH #realtalk #Tadayoshi #podcasting #mindset #attitude #tadthedietcoach #positivemuscle #bodybuilding #ifbb #bodybuilding #history #arnoldclassic #georgebrown #kinggeorge #mrolympia #physique #mensphysique #olympia
Share
|
Download