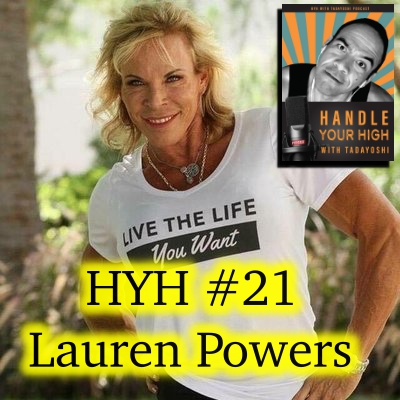 #21 HYH with Lauren Powers
Feb 22nd, 2019 by hyh
Episode #21 of "Handle Your High with Tadayoshi." In this episode I speak with Lauren Powers. Bodybuilder, actor and so much more. We discuss her new book, movies, bodybuilding and women and empowering women over 50! Listen, watch and subscribe on iTunes, PodBean, Spotify or my youtube channel "HYH with Tadayoshi"!
HYH #21 Lauren Powers
Bodybuilding career
Acting
Movie work
Powers Empowerment Event

 

Book: Beneath the Muscle, Release the inner champion
Being your authentic self
Daring to be different
Use your conflict as fuel
success
mindest
other sports
business of Lauren Powers
India
Gratitude
Put yourself first
Manifesting process
being vulnerable
Lady Gaga
Embrace your haters
Being Sober
Discrimination
citing in and being different
women's empowerment
pick your tribe
Hawaii
Pro Skate boarder
Surfing career
Personal life
Being happy
Don't force the journey
Lose how to handle
Firefighting

 

Fit over 50
Please support the my show at: https://patron.podbean.com/tadayoshi (be a patron and get advertising each episode!)
On iTunes:
https://itunes.apple.com/us/podcast/id1445947402
On Youtube:
On Podbean:
On Spotify:
*If I can be of service please DM me! 
tad@tadthedietcoach.com
If anyone knows someone that can help me get my next cool guest for my podcast "Handle Your High with Tadayoshi" please DM me! I am always on the lookout for great guests for my show!
#podcast #HYH #realtalk #Tadayoshi #podcasting #mindset #attitude #tadthedietcoach #positivemuscle #fitness #physique #bodybuilding #mindset #ifbb #laurenpowers #firefighter #womenover50 #empowerment
Share
|
Download