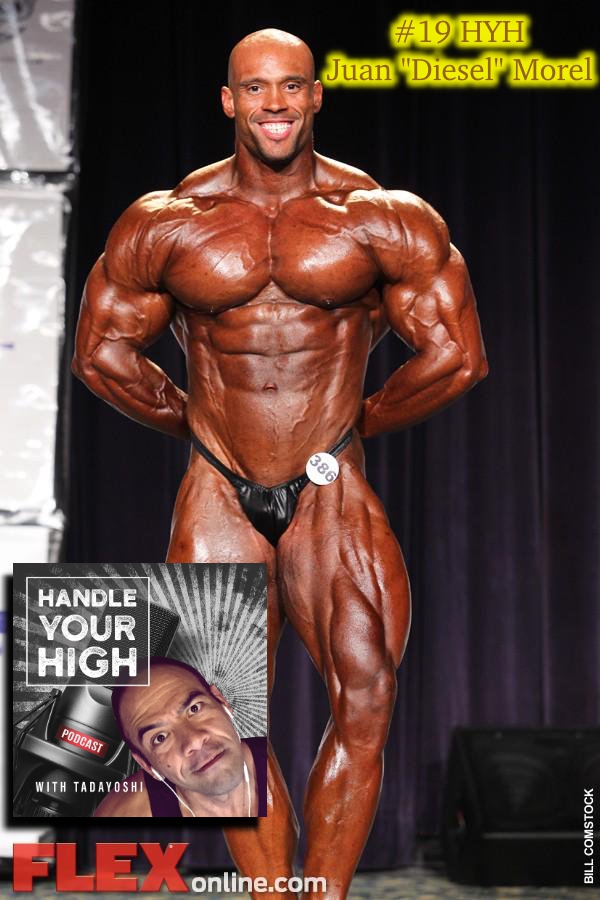 #19 HYH w/ Juan "Diesel" Morel
Feb 15th, 2019 by hyh
Episode #19 of "Handle Your High with Tadayoshi", I chat with IFBB bodybuilding pro Juan "Diesel" Morel! Please listen or watch and subscribe on iTunes, PodBean or my youtube channel "HYH with Tadayoshi"! Cydney and I had an awesome conversation! We talked about:
HYH #19 Juan Morel
Being a father
Grew up
NY guy
Traveling
bodybuilding beginnings
training
East Coast bodybuilding
anxiety
handball
appetite

 

Eating 40,000 cals a day!
Eating stories
Being a champion (thinking and process)
mental approach
leg training (changes in training)
recovery
career future
coaching philosophy
Life principles

 

popularity
Arnold Brazil
Dealing with disappointment
Please support the my show at: https://patron.podbean.com/tadayoshi (be a patron and get advertising each episode!)
On iTunes:
https://itunes.apple.com/us/podcast/id1445947402
On Youtube at:
https://goo.gl/RAJYDd
On Podbean too at:
https://hyh.podbean.com
*If I can be of service please DM me! 
tad@tadthedietcoach.com
If anyone knows someone that can help me get my next cool guest for my podcast "Handle Your High with Tadayoshi" please DM me! I am always on the lookout for great guests for my show!
#podcast #HYH #realtalk #Tadayoshi #podcasting #mindset #attitude #tadthedietcoach #positivemuscle #fitness #juanmorel #bodybuilding #kids #mindset #handball #arnoldclassic #eating
Share
|
Download